October is Breast Cancer Awareness Month, an annual campaign to increase awareness of the disease. This year, throughout the month of October the Probation Department will pay tribute to breast cancer victims and survivors, as a reminder of the need for awareness and continued research for treatments to combat the deadly disease.
Finding Hope and Perseverance Through Family
by Josephine Curone
Our story is one of survival, resilience, and persistence.
You have cancer — a sentence no one wants ever to hear. My Grandpa had cancer, my Grandma had cancer, my mom had breast cancer, my eldest sister had breast cancer, and I've had breast cancer – twice. Our story is one of survival, resilience, and persistence.My mom was first diagnosed in May 1990 and had a mastectomy in June 1990 (two months after I started in the Probation Department) when she was 69. She lived to be 99 ½ and just passed last December. My sister, Mary, had a partial mastectomy in 2016 and is doing well. I was first diagnosed with Cancer in March 2003. My first thought was, "Will I ever see my nieces and nephews grow up, and who will take care of my mom?"  My mom was in the early stages of dementia and already required some care with basic, everyday living.
When I was 39, I had a mastectomy and spent a week in the hospital and a month on a walker. I had chosen the very complicated reconstruction option, placed me in the hospital for a week, a month on a walker, and "wound care" for ten months. I returned to work seven weeks after surgery and carried my "wound vac" in a backpack every day to assist the healing. I had aggressive hormone manipulation treatment and Tamoxifen for five years and was very fortunate not to have chemo or radiation.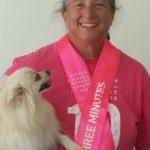 Three years after my treatment ended, in 2011, I found a small lump in the same area of previous cancer, even though I had had a mastectomy. My body was trying to make a duct and trying to kill me again! I had another surgery and six weeks of radiation. At this point, my mom's dementia required 24-hour care. As I was the primary caregiver, I took her to all my treatments. It was amusing when they'd call my name; people would look surprised that I got up and not my elderly mom.
Fortunately, I was working at Camp at the time and had four days off every week. I used and needed those days every week to care for my mom and myself, though that always came second. When I tell you that radiation exhausts in the later weeks, I am not kidding. However, I made sure to continue working out, even if it was just walking the dogs. I truly believe
that keeping moving is what made me feel better and prevented the lingering aftereffects of radiation (other than lung and muscle damage).
One day I was sitting on my couch, and I just realized that I had a life-threatening disease – twice — but I am not going to let it get me down! I am honored to help others get the same chance at survival that I had. I participate in as many fundraising walks (Komen, Avon, Revlon, City of Hope) as I can every year to help raise funds for research and treatment for those less fortunate. I have walked hundreds of miles and raised over $40,000 to honor those who are no longer here. I have lost many friends to this terrible disease, and I will do everything I can to prevent the disease from taking one more life.
A Message of Hope
by Vickie Magallanes
I am blessed to be here as a Breast Cancer Survivor and to spread hope to those personally affected.
My journey started with an AMAZING group of Doctors, Nurses, and staff at Kaiser in Baldwin Park. These comforting professionals, along with my family and friends were the rock of my strength.
During my fight, I learned about a group of remarkable ladies and donors in The Living Beauty Foundation in Pasadena. This foundation offered many opportunities to live through and conquer breast cancer!
I believe our health (mind, body & soul), is truly the main focus to help prevent and move through this curable disease. And we CAN BEAT IT!!
Living a different life style isn't easy but choosing to LIVE IS!
Help yourself and others fight from within. Choose healthy eating habits, exercise, and try ways to relieve stress. Be PRO-ACTIVE NOW! Be a TRUE SUPPORT MEMBER to someone who needs you during their FIGHT!! Educate yourself and others and stay aware. Find an active group to help your needs.
WE CAN DO THIS TOGETHER!!!
Thank you for reading my story. Blessings, health & strength!!
Minister Walter Davis Group Supervisor Nights
End of Watch (EOW) April 29, 2013
by SDPO Tanya C. Davis
The Ribbons are Pink but should be Pink and Blue.
Women get Breast Cancer, but Men get it too.
I am so grateful for this opportunity to bring awareness to Male Breast Cancer and to share my husband's journey and what I learned as a caregiver.
In April 2011 my husband, Minister Walter Davis, was diagnosed with stage 2 Male Breast Cancer at the age of 45. Male Breast Cancer is less than 1% of all cancers so studies and statistics are very limited, which means treatment at this point is a guessing game.
Walter's treatment began with a full mastectomy of the right breast on May 18, 2011. He was also prescribed the oral chemotherapy medication Tamoxifen. These
treatments are primarily for women battling breast cancer. We were told if the cancer returned, Walter's life expectancy would be 2 years.
In 2012, Walter developed a cough that he could not seem to cure. That is when we found out that the cancer returned and infected his lungs, spine, and bones. At that point, the Tamoxifen was discontinued, and he began traditional chemotherapy.
On February 3, 2013 we were told that the cancer was now in his brain. Walter completed 14 sessions of radiation but unfortunately there was no change in his diagnosis.
Walter informed his oncologist that he was done and began hospice on his own terms. Walter went home to be with the Lord on April 29, 2013 (almost 2 years to the day that he was diagnosed).
If you know any males who have a history of breast cancer in their family, please inform them to contact their doctor and request…DEMAND a BRCA1 and BRCA2 Genetic Testing. They should also learn how to conduct self-exams as well. Thank you for taking the time to read my husband's story.
REAL MEN GET MAMMOGRAMS!