Los Angeles County Probation Youth Register and Vote in Presidential Election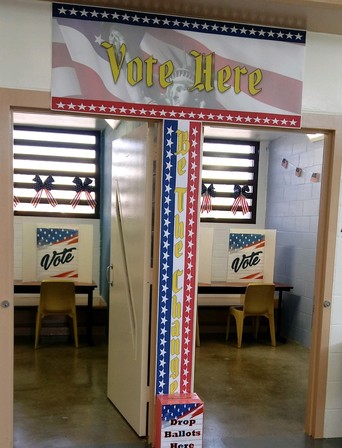 Probation staff members set up a voting booth at Barry J. Nidorf Juvenile Hall
For the past several years Probation Education Services has led the Youth Voter Registration Initiative at Los Angeles County Probation juvenile halls and camps.
Supervising Program Analyst Rahman Williams manages the staff that implements the program. Education Services staff is trained by the Los Angeles County Registrar/Recorder's office and facilitate the registration process. Eligible youth are invited to register or preregister to vote upon arrival at the facilities.
In the past 90 days, 154 youth have registered and preregistered to vote. Thirty-one of those who registered were cleared by the Registrar/Recorder's office and were able to successfully cast their ballots for the November 2020 Presidential election. "This years' numbers are what we expected," said Williams. "Those who were 18 or over and still in our care, and were deemed eligible by the Registrar's office were able to vote."
The youth also learn about the propositions, measures, and the elected offices on the ballot and receive brochures from the registrar's office. "Education Services staff sit down with youth in our camps and halls and explain what the measures are about and what the issues are," said Williams.
All voting is done by mail. For this election, the staff at Barry J. Nidorf Juvenile Hall set up a reproduction of a voting booth where eligible youth could fill out their mail-in ballots, giving a sense of ceremony for voting in this year's general election. "It was a big deal," said Williams. "It got people excited."
Williams is enthusiastic about providing youth in Probation's care with access to the electoral process. "It's a very important election," he said. "We wanted to make sure we gave 100% towards providing as many young people as possible an opportunity to participate in it. I think that will bode well not just for us locally but also for the country. We take our civic responsibility seriously and want to make sure they understand their civic responsibility too."