Department's Youth Diversion Efforts and Focus on Community-Based Services Leads to a Historic Decline in the County's Juvenile Probation Population
LOS ANGELES—The Los Angeles County Probation Department has completed its facility consolidation plan this past week with the closure of Los Padrinos Juvenile Hall in Downey and Camp Ellison Onizuka at the Challenger Memorial Youth Center in Lancaster. The closure of nine facilities since 2017 is an indication that the changes to juvenile justice and the diversion programs the Department supports are working and successfully steering youth away from incarceration and into community-based alternatives, leading to a dramatic decline in the number of youth currently supervised in Probation facilities.
"The completion of our facility consolidation plan moves us closer to our goal of operating fewer facilities with the remaining ones becoming true centers of excellence for juvenile rehabilitation," explained Sheila E. Mitchell, Probation Chief Deputy for Juvenile Services. "These cost-effective moves have consolidated staffing resources, moved youth closer to population centers in the County, and allows us to invest further in diverting youth away from the justice system, and to expand the trauma-informed, child-centered approach that is the L.A. Model to all of the remaining juvenile facilities."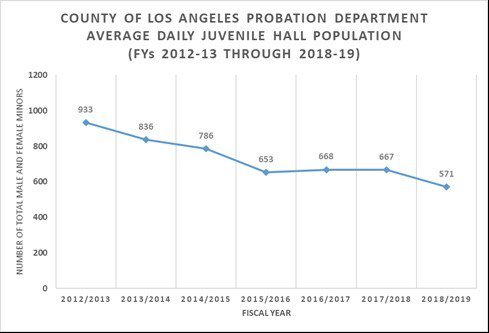 In Los Angeles County, the juvenile hall average daily population has fallen by approximately 39% from 933 in FY 2012-13 to 571 in FY 2018-19. The camp population has seen an even more dramatic decrease, with the average daily population of youth in probation camps decreasing by approximately 71% from 983 in FY 2012-13 to 287 in FY 2018-19. This has been accomplished through a concerted effort to supervise young people in the lowest level need based on their risk – an initiative placing Los Angeles County Probation at the leading edge of a movement to reduce the negative influences of incarceration while still focusing on public safety.
"The collective commitment of Probation and our criminal justice partners to serve young people and their families in community-based settings has led to a historic decrease in youth crime and the closure of these facilities." said L.A. County Chief Probation Officer Terri L. McDonald. "We remain dedicated to create centers of excellence at our remaining facilities where the youth in our charge can thrive."
Two of the closed camps will soon see a second life and will provide second chances. The Los Angeles County Probation Department will be the first in the nation to convert a former juvenile probation camp, Camp David Gonzales in Calabasas, into a residential training facility to support formerly justice-involved men aged 18-25 by providing life skills and job training. The Department is also in the early stages of converting the former Challenger Memorial Youth Center in Lancaster into a similar type of program that would serve both men and women primarily from the Antelope Valley.
For more information about the Los Angeles County Probation Department and the services it provides, please visit probation.lacounty.gov