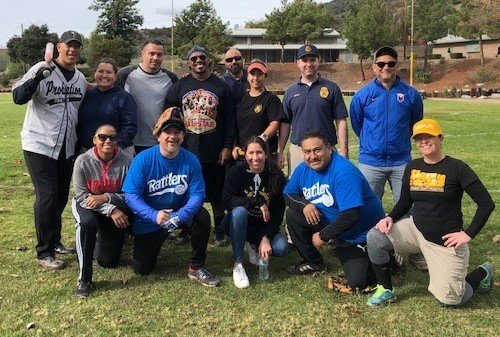 Top Row (left to right): DPO II Angel Gonzalez; DPO I Giovanna Chan; Director Ildefonso Cardenas; DPO II Taliv Traylor; DPO I Ivan Rodriguez; GSN Heather Enriquez; DPO I Jacob Smith; DMH LMFT Joey Estella.
Bottom Row (left to right): DPO I Tiffany Boyer; Secretary III Edward Hernandez; DMH ASW Arlene Rodriguez; DPO I Carlos Campos; DPO I Elizabeth Collins.

On Saturday, November 30th, Camp Joseph Paige (CJP) held the championship game of their inaugural softball tournament. Youth from each wing of CJP previously played games against each other to determine who would get the opportunity to play against staff for the championship and bragging rights. Camp Clinton B. Afflerbaugh and the Department of Mental Health also joined CJP staff for this fun-filled event. To prepare for the game, DPO I Ivan Rodriguez coached the entire youth population on how to bat, throw, catch, and the rules of the game. The youths' parents were invited to watch and enjoy a barbeque with their loved ones after the game.
The game was tied until the fifth inning before the youth broke open the game by scoring 14 runs and ending up winning the game with a final score of 20-6, an impressive showing given that for some of the youth, this was the first time they'd ever played softball. The game was also an excellent opportunity for the youth to learn about the importance of practice and good sportsmanship, skills that translate into other aspects of life.
The youth and their parents truly enjoyed being a part of this event. Each member of the winning team received a medallion purchased by DPO Rodriguez to signify their victory. DPO Rodriguez's contribution to this event was crucial to its success and RTSB and the entire Department thank him for making this event so memorable.
We also would like to extend our gratitude to all the staff who participated in making this event one that our youth and their families will forever be grateful for. One parent summed it up by saying "Thank you to all the staff for making us feel so welcomed. Thank you for the effort you put in to show the kids a different kind of environment. Everything you do is deeply appreciated. I hope and look forward to more activities and projects like this in the future."